"United", a conversation with Senator Cory Booker
The Edward M. Kennedy Institute for the U.S. Senate

Yesterday, we were honored to be joined by Senator Cory Booker and NPR's Tom Ashbrook for a powerful
Getting to the Point
program. I
The Edward M. Kennedy Institute strives to encourage participatory democracy, invigorate civil discourse, and inspire the next generation of citizens and leaders to engage in the civic lives of their own communities. The subtitle of the Senator's book,
United,
is "
Thoughts on Finding Common Ground and Advancing the Common Good"
, something that we aim to accomplish with our public programming series.
As Senator Booker said last night,
"We have work to do in this country and if you care, if you live passionately, if you believe in the ideals of this nation and see what is going on...sometimes you are going to feel overwhelmed. But don't let your inability to do everything undermine your determination to do something."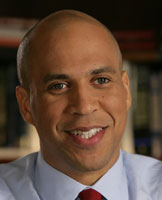 Cory A. Booker
Democrat-New Jersey
Washington, DC Office
Hart 141
Washington, DC 20510
Phone:
202-224-3224
Email:
info@booker.senate.gov

About the Senator:
Cory A. Booker, a Senator from New Jersey; born on April 27, 1969, in Washington, D.C.; graduated Northern Valley Regional High School, Old Tappan, N.J., 1987; B.A., Stanford University, 1991; M.A., Stanford University, 1992; attended The Queen's College, University of Oxford, Oxford, England, as a Rhodes Scholar and received a graduate degree in 1994; J.D., Yale Law School, 1997; worked as an attorney in the non-profit sector; Newark City Council 1998-2002; Mayor of Newark, N.J. 2006-2013; elected as a Democrat to the United States Senate in a special election on October 16, 2013, to fill the vacancy caused by the death of Frank Lautenberg, a seat subsequently held by appointed senator Jeffrey Chiesa, and took the oath of office on October 31, 2013, for the term ending January 3, 2015.