Hopefully, they can help me out in my urgent need to interviewing WW11 vets, as most of them are in assisted living or hospice.
Team
Backpack Journalists
partnered with Mary Huffman, National History ...
Li
nda Dennis
, program manager and volunteer, was/Sworking with a child at a family ...
While
volunteering
for the event, S
he met
Linda D

ennis
,
program manager
of A Backpack ... A Backpack Journalist helps military
children
and teens find their voice ... helping people and just being able to do it for the Soldiers and their
Families
. ... For more information about Hannah's project and her
work
with A Backpack ...
Linda Dennis
Program Manager/Volunteer at A Backpack Journalist
Charleston, South Carolina Area

Government Relations
| | |
| --- | --- |
| Current | A Backpack Journalist |
| Education | Middlesex Community College, Boston, Massachusetts |
About Us
" A Backpack Journalist ™ helps youth find their "VOICE"
Building Resiliency through Creative Expression! Creating the Citizen Journalist of the future!
The teen demographic is faced with multiple challenges that range from growing up, to academic and peer pressure issues. At risk youth face these issues, plus economic and often living in a one-parent household. Military youth issues are intensified due to deployments and reintegration and in general, the military family lifestyle.
At A Backpack Journalist ("backpack"), we refer to the successful journey through self-expression as "finding of one's voice". We believe that self-expression is key to developing one's own confidence, and in getting to know your self. We believe also, that once found, this "Voice" forms the necessary foundation for a resilient life and allows the youth to grow forward in a more happy and well-adjusted manner.
"Backpack", originally was created for 12-17 year olds, has also served younger children via a hands on experience and our "About me – Little Backpackers curriculum" .
"Backpack" has been used by FFA (What's Your Story!"), Brandon Hall School (Cowboy Poetry), National Parks (Florissant Fossil Beds National Monument), Cantigny Park (First Division Museum, Freedom Express), National Guard Youth Programs – Youth Symposium, Yellow Ribbon Events (North Carolina, Texas, Colorado, Iowa) US Army Reserve Child and Youth (ARTP) and at Ft. Campbell Kentucky (MWR) and National Guard Youth Programs – Symposiums (Kentucky, Iowa, Kansas, Texas, Oregon, Arizona, Florida). "Backpack" movies provide an intimate inside view of the curricula at workshops, Cover the Assignment events and teens at work, displaying positive outcomes of their own resilience. These movies can be found on our You Tube Channel, and also via DoD links (Yellow Ribbon Events).
During the 2014-2015 school year, A Backpack Journalist was a partner to the Charleston Promise Neighborhood, Sanders Clyde School, and worked in the expanded day program for elementary school students, and at Burke Middle High School with middle to high school/Downtown Community Center/21st Century After School.
Both programs were PILOTS, and continued forward with our modified, expanded lesson plans on "Cover the Assignment", "What's your Story", and TEAMBACKPACKJOURNALISTS (www.teambackpackjournalists.com – under construction) in various schools in the Charleston County School District. A book –
Baseball,
The RiverDogs and the Life of Larry Doby
was one of the outcomes of the school year.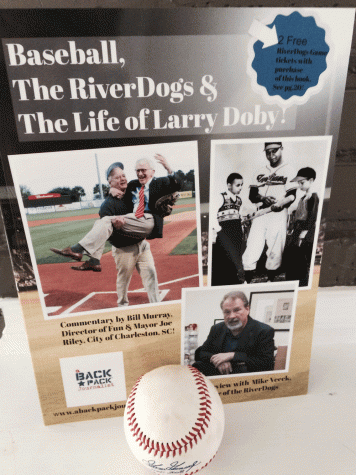 This book includes a lesson plan/thematic unit for teachers, aligned with Social Studies standards for South Carolina and other states.
In the 2015-2016 School year, we will be supporting a STEAM project in a partnership with Hendrick Automotive, to help develop a series of lesson plans and a book focused on Cars & Parts for the elementary school demographic. Sanders Clyde School was chosen as the pilot site and also St. Julian Devine, the City of Charleston, Recreation Department.
The MEDAL OF HONOR Bowl – Essay Challenge is managed by our team/with volunteer support. It launches September 1, 2015 and closes early 2016, with a year following of a "Year of Celebration – Honoring our Nation's Heroes – The Medal of Honor Recipient". The Medal of Honor Bowl is to be held in December, 2016.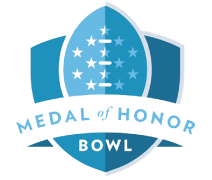 The year's plan includes our backpackers building a documentary featuring Medal of Honor Recipients, the GI Film Festival, and then a book published with the winning essays.
Team Backpack Journalists partnered with Mary Huffman, National History Teacher of the year and her class to produce a short video essay on three Medal of Honor Recipients, with one of our members portraying Willie Johnston, at the age of 11, as a Drummer Boy, did receive the first Medal of Honor during the Civil War!
"Team Backpack Journalists" classes are offered at St. Julian Devine Community Center on Monday and Wednesday afternoons, allowing all children/youth from the lowcountry of South Carolina to attend. The City of Charleston Recreation Department offer an after school program, and "Backpack" will be offering writing/photography for these two afternoons.
A Backpack Journalist curricula has at it's foundation Writing. Photography, Song writing, Digital Storytelling/Film making, and Cowboy Poetry complete the module selection. A typical workshop will combine two of the modules. There is also a "Little Backpackers" for 6-11.
- See more at: http://www.abackpackjournalist.com/about-us/#sthash.RsYrRfKZ.dpuf